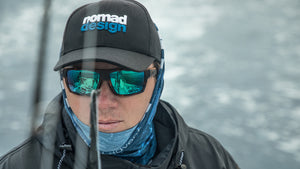 Head lure designer (and owner) at Nomad Design, Damon Olsen. The founder and head guide of Nomad Sportfishing Charters for over 18 years, regarded as one of the premier remote sportfishing operations in the world. Nomad Sportfishing averaged 200 days on the water annually, fishing the pristine waters of the outer Coral Sea guiding anglers from around the globe looking to catch that fish of a lifestime. That's around 68 seasonal changes, 280 moon phases, 3400 days or 13600 tide changes. Damon, also a qualified engineer spent this time honing his skills and experience on the water to deliver the ultimate fishing experience for Nomad Sportfishing charter guests.
Every lure I create starts as a sketch before being 3D modelled, prototyped and rigorously tested in all conditions. The internal weight options are selected, manufactured and hand tested on the water to achieve the perfect action and balance for every style, every time. Patterns and colours are meticulously chosen and hand drawn, resulting in an exceptional, factory hand painted lure. The world's best hooks and terminals are then chosen as the final accompaniment to a Nomad Design lure, that is in every way Crafted by Experience.
Captain Damon Olsen
crafted by experience
Crafted by Experience means a great deal to us, it's been hard won and earned through decades of experience on the water. As the founder, former captain and fishing guide of one of the world's premier blue water sportfishing charters in Australia's remote Coral Sea. I required the toughest and most effective lures for our domestic and international fishing clients. After years of making the most of lures that simply didn't meet the standards we required, I put my engineering degree to good use and began creating lures crafted to withstand the demanding predators of the Coral Sea. Nomad Sportfishing Adventures became, and still is, the ultimate testing ground for every one of our products over the last two decades. Our lures are the culmination of real experience crafted by forces of nature, and tested to the limit.
design process
concept
Lure concepts at Nomad begin as a sketch, drawing on a lifelong fishing obsession. Every lure and every color starts from a hand drawing in our R&D facility.
innovation
Striving to meet our own stardards and expectations, innovation has become part of the Nomad DNA. Our patented technology is testament to this process.
testing
Hand tested in our R&D facility to achieve the perfect action and balance. Nomad products are then subjected to rigorous on the water testing to ensure they are deemed fit for purpose.
nomad design
research & development
The Nomad swim tank plays an integral part in fine tuning lure designs before dedicated on the water testing begins.
play video
development process
dtx220 long range special
See how the Nomad Design lures are designed, tested and how they evolve from an idea in Damon's head into a working reality. The DTX 220 is used as an example, showing how complex the process is to convert a DTX 200 into a DTX 220.
shared passion
collaboration
Sharing ideas and knowledge with passionate local anglers is a key part of the Nomad Design process. Understanding the nuances of a fishery leads to more effective designs.
Local knowledge downunder
Watch as Damon guides Local Knowledge TV aboard Nomad Sportfishing in the Coral Sea. The guys travel to Australia from California to experience the amazing fishing on the Great Barrier Reef and get to understand the extreme fishing in the areas where Nomad Design Tackle was born.
local knowledge
Nomad in new york
With a guiding background, the importance of local knowledge is never underestimated by Nomad Design. When longtime friend and editor of the USA's biggest recreational angling publication Sport Fishing Magazine asks you to travel across the other side of the world and fish with him on a trip designed to be the polar opposite of fishing the Great Barrier Reef, the only answer is "Yes, lets go!"
local knowledge
Nomad in the keys
Testing Nomad lures in the Florida Keys. Damon Olsen fishes the Florida keys with ex pat Aussie guide Captain Jarad 'Dingo' Boshammer from Dingo Fishing Adventures.